Head Lice
Head Lice
20 November 2018 (by admin)
Young children often get head lice. Check your children's hair frequently and everyone in the family.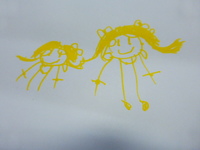 Head lice and nits are very common in young children. They don't have anything to do with dirty hair and are usually picked up from head-to-head contact.
Head lice sometimes can make your head feel:
itchy
like something is moving in your hair
The only way to be sure someone has head lice is by finding live lice or eggs.
You can do this by combing their hair with a special fine-toothed comb (detection comb). You can buy these online or at pharmacies.
We do have some in nursery so please ask if you need one.